Remember how I said I was not going to over commit this season?
Remember my list of five guidelines for a no-stress holiday?
I was this close.
This close.
I spent the first eight days of Christmas wrapping my gifts and ordering online and decorating with what I have and not over thinking everything and shaking my head no when I might have nodded it yes in the past.
Christmas was on track for smooth sailing this year.
Until I was shopping with the twins last week in the Christmas aisle trying to remember my guidelines and reminding myself I was there to buy gift wrap and not the wooden sign with the tiny reindeer and sleigh or the glitter snowflake pillow….
…..when we saw one of the twins' teachers.
We chatted and said hello and I told her what an amazing teacher she was and how much the twins loved her.
And as I stood there holding two packages of wrapping paper and fourteen burlap tags…..
…..it happened.
Yep.
I opened my mouth and planned another party.
It wasn't intentional.
It just came out.
And before I knew it I was inviting her and all the twins' teachers over for our tradition of having their favorite teachers over for Christmas brunch.
A tradition I started right there in the middle of aisle 14..
And now?
Now I'm decorating the back porch with visions of tiny sandwiches and hot chocolate with mini marshmallows and a cheese platter shaped like reindeer and double layered brownies for dessert.
And a centerpiece.
A simple no-stress centerpiece for under $20.
But I couldn't stop at one.
I shopped the house and Kirkland's Christmas collection and created three.
And some moving pictures to go with each one to show how I created them.
Let's discuss.
Option 1:  Ornament centerpiece
I started with basic white plates and bowls or you could use this serving piece.
Then I layered in ornaments and greens.
And finished it all off with a JOY sign.
And here's the step by step on how I created it.
Don't you just love a moving picture?
It's not available online now, but I found the JOY sign at my local store (on sale).
Option 2:  Package centerpiece
To create this centerpiece I started by wrapping empty boxes with wrapping paper.
I stacked them on a wooden pedestal and added pom pom burlap ribbon.
Then I added a plaid deer sign (similar one here).
I might add some fresh greens, too if I choose this option.
The burlap pom pom ribbon isn't available online any more, but I found mine in my local store (on sale).
And here's the step-by-step on how I made it.
Option 3:  Red and green Christmas
I started with a vintage cut-out I had of a church and carolers and Santa handing out gifts.
Then I added my favorite find this Christmas season, a Christmas candle display which I found at my local store.  I used battery operated candles to prevent all the waxy mess.
Then I layered in fresh greens and a Merry Christmas sign.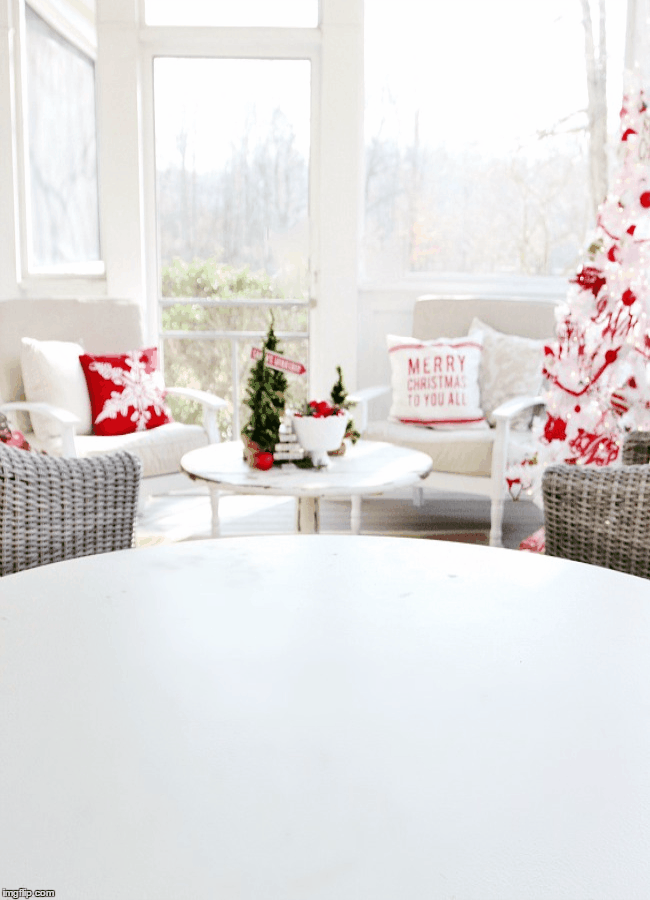 Here's the step-by-step on how I created it.
And now I need your help.
If you were a teacher going to a brunch on the back porch of a farmhouse with white trees and snowflake pillows and presents and tiny sandwiches and brownies….
….which one would you choose?
Inquiring Christmas minds want to know. 🙂
disclosure:  This post was sponsored by Kirkland's.  All opinions are my own.  Please see my disclosure page for more information.
Want to know how to decorate your home for free?
Click here to get my FIVE BEST secrets.