We have a new addition to the farmhouse.
A tiny little Yorkie with the sweetest brown eyes and furry brown hair.
And like all really good dog stories, we didn't find him, rather, he found us.
He needed a home when his owner fell ill and couldn't care for him any more.
He's almost 10 years old and a little timid and shy and scared of his own shadow.
I don't blame him.
I understand.
He's been through a lot.  He had to leave the home he loved and his whole world was turned upside down in a matter of weeks.
He spent the first two days sleeping on a blanket, just recovering.  Sleeping and eating and then sleeping some more.
We understood.  He needed time.  So we bought him a special bed and let him snuggle in for a long winter's nap.
Every now and then, he would timidly peek his head out of the bedroom, as if to check us out.
Looking at us.  Trying to decide if he wanted new friends.
And then yesterday something wonderful happened.
I was in the kitchen at the computer editing photos.  I looked up from the computer screen to see him  trepidatiously making his way across the kitchen floor.  I sat down on the floor and waited.
"Hello friend," I said and held out my hand.
Slowly he came towards me.  I didn't move.  I just waited.
Closer and closer he came.
Stopping and starting and stopping again to cock his little head to one side, his bright brown eyes never leaving mine.
He approached my hand and sniffed.
And sniffed again.
I scratched his ears and he closed his eyes and climbed into my lap and settled in as if he belonged.
Which of course he did.
Love you to the moon and back little Yorkie.
Welcome home. 🙂
Want to make your own wooden sign?
Here's the Reader's Digest version.
It's as easy as a trip to the craft store and a little vinyl and paint.
1.  Frame a piece of wood
You can see a tutorial I wrote for the frame I made just like this for another sign….here.
Purchase a vinyl saying at a craft store.  I bought this one at Hobby Lobby (for 40% off).
2.  Stain the wood and apply the vinyl
I stained the wood, let it dry and then applied the vinyl.
I made sure the vinyl was adhered to the wood.
3.  Paint the wood
I painted the inside piece of wood (not the frame) with SW Mindful Gray (of course).
Then I let the paint dry.  After the paint was dry, I peeled off the letters.
It's a wonderful feeling when you peel off those letters and see the beautiful stain underneath.
Almost as wonderful as sitting in the middle of your kitchen floor with a dog snuggled up in your lap with your heart beating a little faster….
….and a goofy smile on  your face. 🙂
And now here's some other fun projects and tips from some of my favorite bloggers: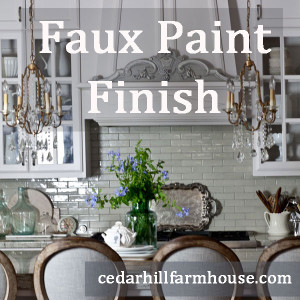 CEDAR HILL FARMHOUSE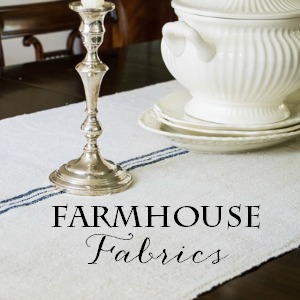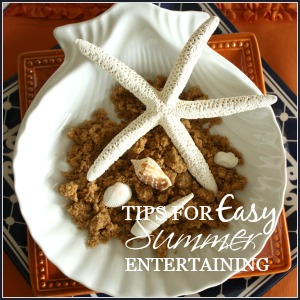 Want to know how to decorate your home for free?
Click here to get my FIVE BEST secrets.