How do you organize your day?
Do you just take the tasks as they show up?
Do you just clear your schedule and get ready for all the last-minute things that come your way?
Do you make a list?
If you are a list maker, have you ever had a day where your to-do list stretches around the block?
You try and get it all done.
Truly.
You try and try and try and try, but for every item that you check off, you add two more.
And somewhere…..in the middle of all that trying…..
….you have a brilliant idea. 🙂
You are going to multi-task.
I know….right?  Brilliant. I thought it was a brilliant idea, too.
Two things at the same time?
Crossing two items off the list with a single stroke of the pencil?
Brilliant idea you tell yourself.  Simply brilliant.
It has to work.  I mean, you've seen your mom successfully do it and she's amazing. You've seen friends multi-task and you have a vague memory of trying it before.
I mean, really?
How hard can it be?
Kind of like rubbing your stomach and patting your head.
At first the whole thing works like a charm.
You order groceries on your phone while adding pumpkins to urns on the front porch.
You edit all the photos for this post while washing two loads of clothes.
You sweep off the back porch and water the flowers—all while practicing your speech for the event at the Silobration next week.
You become the most efficient of people.
Like talk show might call you up to interview you to see how you get it all done.
Or the local news might stop by with cameras just to witness all your efficiency.
Seriously.
If you were a superhero they would call you the efficienterator.
Along the way something amazing happens.
Your list gets shorter and shorter and shorter.
You blink twice and there's a light at the end of the tunnel.
Why didn't I try this before…..you tell yourself?
It's going so well and zipping by so fast without a hitch.  Everything is wonderful.  Everything is working out.
Until.
Until it doesn't.
Until you decide that you are going to sew a ruffle onto a sheet and talk on the phone to your best friend at the same time.
Simple, right?
I mean….isn't that what speakerphones are for?
And besides?
You are the CAPTAIN OF EFFICIENCY.
The conversation goes a little like this.
You: (brrrrring….the sound of the sewing machine) Hello?
Her: I need your opinion.
You: (brrrrrrriiiiiinnng….never pausing the sewing) Of course.  You have come to the right place.  My specialty is opinions.
Her:  What do you think of vintage maple buckets?
You:  (brrriiinng) I love them. (brrrrr)  What a fun idea (briiiinnnggggg) I think I……(clunck, thud)  
……ohhhhhhh nooooooooooo.
Pause.
Silence.
You:  (with the sound of anguish in your voice) I have to call you back.
You get off the phone because you've sewed your shirt to the ruffles on your sheet.
Yep.
Then when you try to get the two apart, you break the sewing needle with half of it still threaded attached to your shirt.
Good times.
Now you've added—drive to Wal-Mart to buy a sewing needle to your to-do-list.
And instead of multi-tasking?
Sigh.
You're extra-tasking.
The moral of the story?  The lesson learned right here in the middle of this fall tour?
Multi-tasking is awesome.
But trying to get everything done in double-time can be overwhelming and exhausting.
So today my friends….take a lesson from someone who almost lost the shirt off her back.
Press the pause button.
Slow down.
Take a break.
Then look around at the beautiful fall leaves outside, smell the crispness in the air, smile at the world, take a sip of coffee and enjoy the sunshine….
….and tackle one thing at a time. 🙂
And now?
A giant shout out to my friend Sheila from Maison de Cinq for putting a fun fall tour together.
Here are a few more fall tours from some of my favorite people.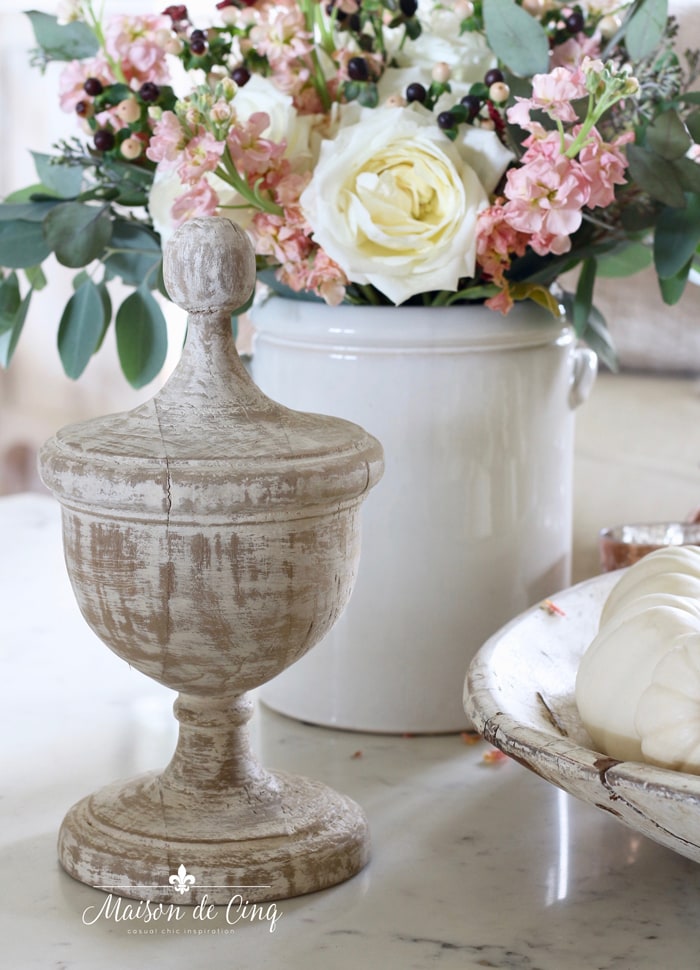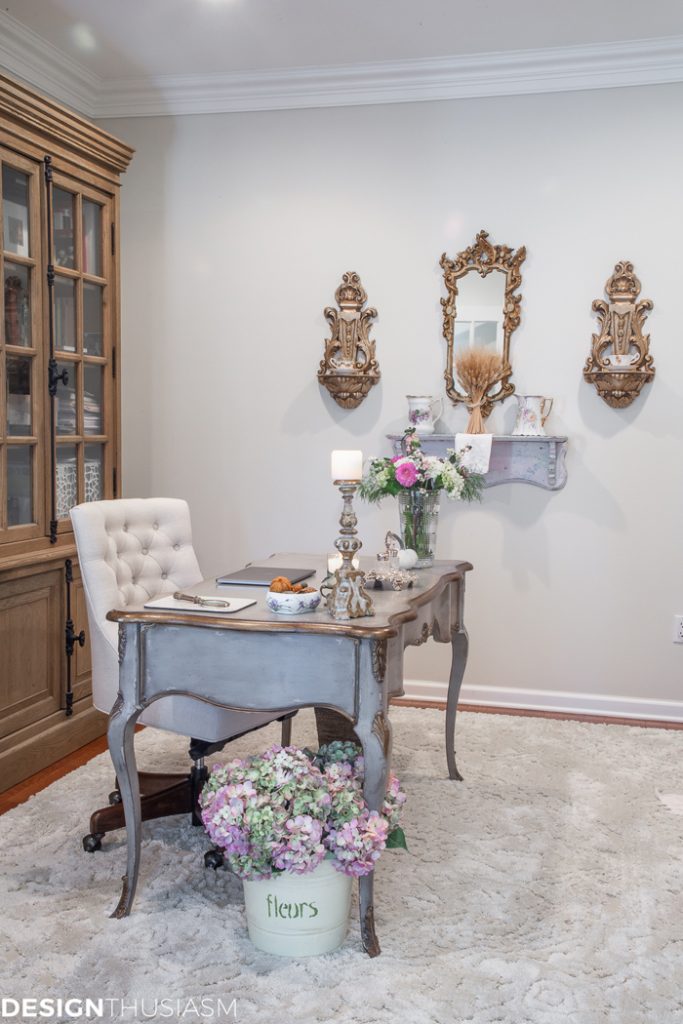 Want to know how to decorate your home for free?
Click here to get my FIVE BEST secrets.