Two random thoughts on a cold, wintry December morning:
1. Have you ever listened to all the verses of It Came Upon a Midnight Clear?
2. How do you decorate your mantel for winter?
I know what you're thinking.
These are deep, introspective thoughts that make you go hmmmm.
Not. 🙂
Last night we sang It Came Upon a Midnight Clear and somewhere between the fourth and fifth verses I had an epiphany.
Right about the part where I sang this:
"Look now! for glad and golden hours
Come swiftly on the wing
O rest beside the weary road
And hear the angels sing."
O rest beside the weary road.
Yes, please.
We should all take a page from It Came Upon a Midnight Clear.
Less hurrying and scurrying and making our list and checking it twice and trying to achieve all that holiday perfection.
And more resting and listening to the angels sing.
And decorating my mantel for winter?
I'm all about it.
Here's an easy garland idea that transitions perfectly.
One minute it's a Christmas mantel, the next minute it's a winter wonderland decoration.
You've seen these floating around Pinterest before, but here's my twist with a gold tipped beads and snowball pom poms.
Here's the easy diy for this bead and pom pom garland.
Bead and Pom Pom Garland
Supplies:
wood beads
gold spray paint
twine
FrogTape
yarn
1.  Start with wood beads
You can find these at any craft store.
They come in a variety of sizes with large and small holes.
I just bought everyone they had.
2.  Watch a Christmas movie
Especially the one where the girl works at the department store and then Mrs. Miracle shows up and convinces her that the son of the department store (who by the way is having his own challenges with his dad) is the perfect match for her.  And then they sell out the entire toy department and give a train track to a solider who just happens to be related to the girl and they all have a Merry Christmas and live happily ever after.
Ooops.
Spoiler alert if you haven't seen the movie. 🙂
While watching the movie, wrap the beads with FrogTape.
3.  Spray paint the beads gold
Let dry.
Remove tape.
Sigh when you look at that perfect line.
4.  Make pom poms
I made 10 pom poms for this garland.
All during the same Christmas movie.
These are made out of fuzzy yarn to make them look like snowballs.
5.  String pom poms and wooden balls.
I tied a pom pom on the twine.
Next, I strung 5 wooden balls.
And repeat until you have the length of garland you want.
This project took me one Christmas movie and into 45 minutes of the next one.
You know.
The one where they both decorate windows together.
I won't give the ending away….
….but it rhymes with chappily rever fafter. 🙂
This post was sponsored by FrogTape, but all opinions
on garlands and peace on earth and listening to the angels sing are completely my own.
Please see my disclosure page for more information.
I'm so happy to be sharing fireplace and mantel decorating tips with some of my favorite bloggers.
Click on the links below for some more mantel and fireplace inspiration.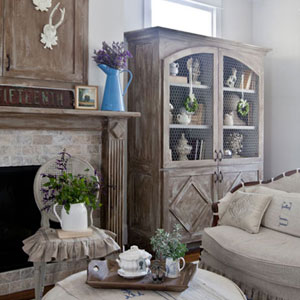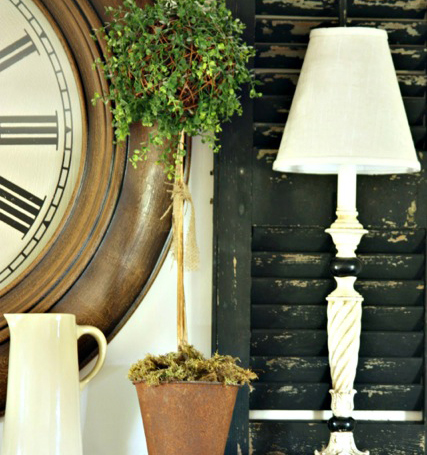 STONEGABLE BLOG
Want to know how to decorate your home for free?
Click here to get my FIVE BEST secrets.